January 2007
After my walk to Foulness island, it's back to walking around marshes and rivers on this walk. This time I decided to start from Rochford and walk east to Landwick cottages, where I had finished my last walk on the mainland. Although Rochford might appear quite far in land I need to cross the river Roach and Rochford is the closest place to the coast this can be done without a boat.
As there was engineering work on my local trains this weekend, meaning the service was less frequent and slower I decided to drive, as the days were short and I needed to get there in good time in order to finish before it got dark. I also decided to drive to Rochford rather than Landwick as I knew it was possible to park at Rochford station which I'd be returning to by train at the end of the walk and not sure how easy it would be at Landwick Cottages.
I had a reasonable journey to Rochford via the M25 and A127 and minor roads to Rochford. I passed Southend Airport on the way (now London Southend Airport) and I was surprised to notice an Easyjet plane there as I passed (at the time I think the only scheduled flights from there was 1 a week to Jersey, though it has regular flights now).
I reached the station and parked there and headed down to the main shopping street in Rochford. I didn't know anything about Rochford and I had never been there before, but I found it quite a pleasant little town. The buildings were old and a mixture of styles and the shops were almost all independent, with a little market square, too.
I did come across one surprising sight. A derelict Rumbelows store, a name I had long since forgotten.
For those that don't remember Rumbelows was a chain of electrical stores. Once to be found on most High Streets (even it seems, little Rochford) all the branches had closed by 1995. That was 12 years earlier! But this branch still had all the logos up and even an old "Sale" sticker on the window. It also reminded me that most High Streets used to have numerous electrical retailers (Dixons, Currys, Comet, Rumbelows, Radio Rentals). Now all these names have either gone for good or at least gone from the High Street to out-of-town retail parks.
Anyway I continued along the aptly named South Street, heading south to the roundabout at the end of the town centre.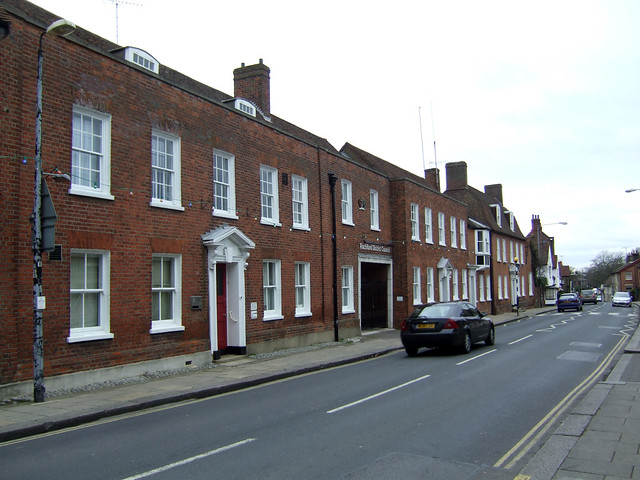 Here I turned left on a signed footpath past some industry and then following a tributary of the river Roach. Presumably it was once called the river Roch (hence Rochford).
I soon came across (another) odd sight. To my right behind the trees (easy to spot now they had no leaves) were cars piled up on scaffolding.
I wondered what on earth that was about. Most scrap yards pile the cars on top of each other rather than put them on separate platforms like this. They clearly weren't new cars that had been imported, most of them were around 10 years old. I wondered if it was a long-term car park but for what (the airport had very few flights at this time)? I decided it must be a scrap yard after all.
Ahead the path began to open out to the river Roach but this northern little tributary was crossed by a bridge by an what I assumed would be an old mill ahead. But it looked like a modern buildings so was probably still used.
I needed to be on the south side of the river and there was a minor footpath right off the main path (which was part of the Roach Valley Way) so I followed this to emerge into an industrial estate. This part of Rochford was not so pretty! I followed this road to the end, then turned right and took the first road on the left and followed this down to Sutton Road.
Sadly whilst the north bank of the river Roach has a good footpath along it, the south side was not so lucky. The nearest route along the coast was along this road but it had no pavement and I'd be following it for around a mile. There was an alternative footpath through fields to the south, about 200 metres from the road so I decided to follow that instead, it wasn't as if I could even see the river from either the road or the path.
To join this I turned right initially following a brief stretch of path beside the river on a raised bank beside the houses of Sutton Ford. Soon I could turn left, crossing a footbridge and emerge into a large field. The path went straight across the field heading for the church – presumably created by residents of these houses walking to church many years ago. The church was another pretty one with an old stone wall and unusual timbered tower at one end.
Beyond the church I had another surprise (it was turning out to be a surprising day!). I was now passing railway tracks. These turned out to be the miniature narrow-gauge tracks of the Sutton Hall Railway. This is open to the public on occasion, though today was not one of those occasions. In fact it looked like they were in the process of relaying the tracks, given the rather abrupt halt and the area of cleared earth ahead.
I could look over and see the engine sheds etc too, but all was quite today.
The path continued beside the tracks in the other direction for a little while before these too came to another abrupt end. It seemed an odd sort of railway!
I continued down through another field to the road near Slated Row. I turned left along this road and when the road turned to the left I could turn right on what was signed as a bridlepath to return to the route closest to the coast. It was not really a path as I was following a surfaced road just that it was now a private one. This turned left, past Butler's Farm and soon narrowed. It then turned right now a track rather than a road between fields. This continued for around 3/4 of a mile where I passed Mucking Hall. It was more a farm now it seemed but the map suggests there was an ancient settlement here.
Onwards I was now back on a private access road, this time for Mucking Hall which soon emerged onto the minor road. Here I turned left passing a lovely clapper-boarded house.
When the road turned right I could continue ahead on a footpath that passed Roach Farm and a pumping station and at last to the banks of the River Roach. I had walked about 4 miles so far and this was my first view of anything coastal!
As I expected it was a scene of marsh and mud flats, but a peaceful spot. I now had a path right along the river bank for the next couple of miles. As I often found in Kent, it was a path along the top of the raised grassy banks that protected the land behind from flooding. It started off quite a pleasant walk but as I headed east there were hints things were about to change.
I first passed a sign that a high pressure gas pipeline crosses at this point. I continued east towards Barling Ness. There were little piers and jetties going out into the river, though they looked to be rarely used now. Inland too there was some marshy ground and flooding, I was glad to be on the raised bank with dry feet.
Sadly things did not continue to be pleasant. The eastern end here near Barling Ness is actually a landfill site, but this is not obvious or marked on the maps. This attracted huge number of sea gulls and was a bit stinky.
I was a bit worried about receiving a "deposit" from a sea gull given there were so many flying about but thankfully I escaped that.
Soon I reached Barling Ness, where a few more sea-birds were out on the mud flats at the dge of the water. Looking further along the river I could see the boats and boat houses of Paglesham Eastend, where I would be on my next walk.
I was now turning south to follow Potton Creek. This once separated Potton Island, just across the creek from the mainland, but this island has now been joined (along with Havengore Island) to Foulness Island and is very much out of bounds. I continued south for only around half a mile before the path turned right with the coast again. This time I was heading up another creek, Barlinghall Creek. This twists and turns inland for a mile or two to Little Wakering. I was beginning to realise the truth about Essex having the longest coast of any county in England!
Over the land fill and rubbish I could just make out the church tower of Barling ahead. However the view to my left was quite pleasant with a few boats moored up in the creek and masses of sea gulls again.
I passed Barling Hall where there was a small jetty with a few boats moored up. Although I didn't pass it, I could now clearly see the church of Barling to my right, too.
South of Barling Hall the path continued along the sea wall beside the creek.  At some point the creek to my left became Little Wakering Creek and narrowed to reach the edge of the village. I then turned and followed the south bank of this creek back out again, now on the south side of the creek. This was now very reminiscent of Kent, with the path lined with large amount of salt marsh on my left.
I soon neared Halfway House Farm where north was a marshy little peninsula of land. To my left it is now Fleethead Creek (all these creek do get confusing). I could cut out this little marshy creek as a footpath cuts across it's neck, but I had time before it got dark. I was soon opposite Barling Hall where I had been nearly an hour earlier, but now on the other side of the creek.
To my right the marshes seemed popular with large number of Canada geese, probably over-wintering in the UK.
As I rounded the creek, the land was fairly flat and featureless. It looked like they were arable fields in the summer. So I was back alongside Barlinghall Creek and turning right back onto the west side of Potton Creek. On the other side was Great Potton, part of Potton Island and part of the MOD land.
Ahead now I was nearing Potton Bridge. This connects Potton Island with the mainland but like Havengore Bridge it is out of bounds to the public and I could see the high fences and barriers and the security building on the other side.
I continued to the bridge. The land south of here, even on the mainland, is also part of the danger area. The bridge had a warning that it was MOD land and the public and pedestrians were not permitted to cross.
I was sure once again I was being watched by security cameras or perhaps someone in the building on the other side of the bridge. Fortunately the path ahead was all open (I am not sure if it is every closed, despite being in the Danger Area) and I was soon passing another boat yard with boats in varying states of repair.
Many moor were moored up along the centre of the creek, accessed by a wooden jetty.  I suspect most would not move now until the spring.
Other boats, moored up (or abandoned) beside the creek looked like they would never move again. Sadly one such rusting hulk still had the writing "Rotherhithe Dockland Museum". This museum no longer exists (or at least, has changed name) and it seemed a shame that this boat had apparently once been considered worthy of preservation but had now been seemingly abandoned here to rust away.
Once past the boat yard I continued around Mill Head where presumably there had once been a mill, but wasn't now. I continued back around the south side of this little inlet now alongside Havengore Creek. Accross the creek is Rushley Island. This still is an island thought it is uninhabited and within the danger area though from what I could find out is privately owned. Clearly it was inhabited at some time, as I soon reached a ford marked on the map with Rushley Farm marked on the map but clearly no longer in existence other than an over-grown barn. The ford looked to have been recently used, as I could see tyre tracks across it.
Beyond I could see Havengore Bridge over to Foulness Island. It was only a short bit more walking to reach Oxenham where I had reached on my previous mainland walk and so I re-traced my steps along the track from here to Landwick Cottages where I had previously ended, to join up these two walks.
From here it was a rather fiddly journey back to Rochford. First I took the bus to Southend, then I walked from the bus station to Southend Victoria station and took the train from there back to Rochford, taking a little over an hour.
It had been a mixed walk this one.  Rochford turned out to be a pleasant little town but the first part of the walk was mostly around industry and through fields away from the shore and coast. When I did reach the coast, it was initially blighted by the landfill site. Thankfully things improved after this as I could follow right along the sea wall paths around all these muddy little creeks. I was beginning to realise the reality of the length of the coast of Essex, with all these creeks and streams!
Here are details of the public transport needed for this walk. First take a bus from Landwick Cottages to Southend, then a train from Southend Victoria station to Rochford.
Arriva bus service 7 : Landwick Cottages – Great Wakering – North Shoebury – Thorpe Bay (railway station) – Southchurch – Southend-on-Sea – Prittlewell – Rochford – Hockley. Every 30 minutes Monday – Saturday. It takes 35 minutes to travel between Landwick Cottages and central Southend.
On Sundays there is no bus to Landwick Cottages. Instead you'll need to follow the road for another half a mile inland to Great Wakering instead and use this bus:-
Arriva service 4A : Shoeburyness (East Beach) – Great Wakering – Southchurch – Southend-on-Sea. 
Once at Southend, walk to Southend Victoria and take the train to Rochford on the following route:-
Greater Anglia, London to Southend : London (Liverpool Street) – Stratford – Shenfield – Billericay – Wickford – Rayleigh – Hockley – Rochford – Southend Airport – Prittlewell – Southend Victoria. Trains run every 20 minutes Monday – Saturday between Rochford and Southend taking 10 minutes. On Sundays trains run every 30 minutes.
Here are the complete set of photos for this walk : Main Link | Slideshow